Infinity Dress South Africa has just launched the latest Bridesmaid
Trend for 2020.
Infinity Dress South Africa is an internationally acclaimed company that
flaunts their high quality, flattering and elegant designs Worldwide!
The Holographic Dress is the perfect alteration free bridesmaid dress.
It is made with no zips, a durable stretchy inner support
fabric that stylishly covers the bust and shrinks or grows with your bridesmaid.
The dress is cut with a stylish slit with a front length of 110cm and back length of 120cm creating beautiful flow that flaunts your Bridesmaids stunning shoes.
The holographic dress is one dress that you can style in 27 different ways to perfectly suit her figure.
Infinity Dress SA wholeheartedly believes that a Weddings main focus
should be The Bride. By taking the Brides priorities of her time,
money and bridesmaid drama taken into consideration, Infinity Dress
SA introduced the perfect alteration free bridesmaids dress that
complements every figure.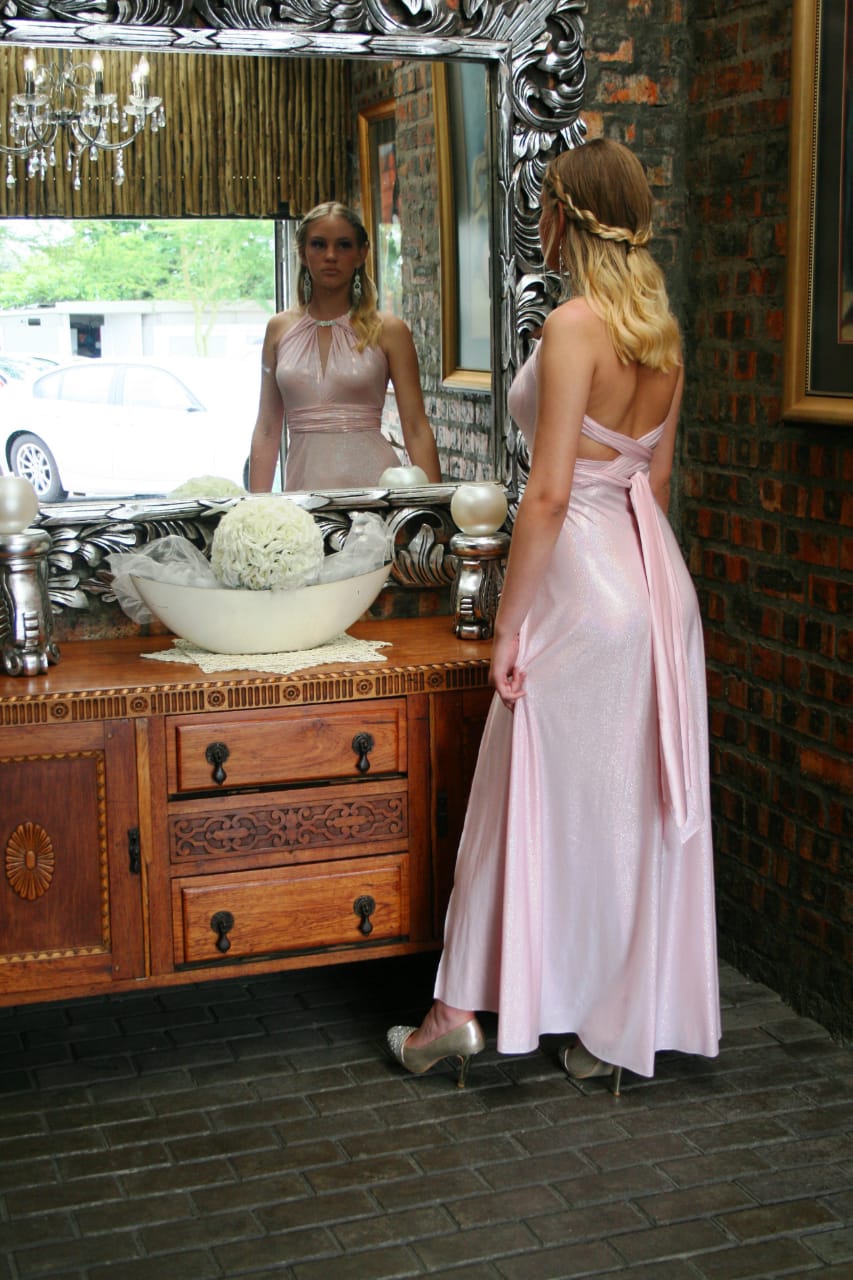 The Plus Size Bridesmaid
Your plus size bridesmaid will want to lose weight before
the Wedding while still wanting to hide her knees, back and arms
without getting too hot. She will also probably want to wear heels but might end
up choosing flats on the day of the actual wedding or shortly before
that. If she had chosen to go with a full-length dress, this would
result in last minute and stressful length alterations to adjust to her shoe height.
It will also be important to your bridesmaid that she receive value
for her money and receive a dress that she can wear again after the wedding.
Conclusion: The "Original Infinity Dress" will be the perfect choice for a plus size
bridesmaid as it covers the knees and back and can be styled in a
flattering way to cover the arms. The length of this dress is a cascade
cut which allows your bridesmaid to choose between two pairs of
shoes on the wedding day.
The Pregnant Bridesmaid
Your pregnant bridesmaids breast and stomach are growing at tremendous rate.
Your pregnant bridesmaid will want to get her dress at the last minute to
ensure that it fits her perfectly on your Wedding day.
Your bridesmaid will be unsure if she will be able to walk around in
high heels all day/night. No matter how many times you do alterations,
the length of her dress will end up being higher in front over her belly
and lower at the back. She could even end up giving birth before your Wedding day!
Conclusion:"The Original Infiniity Dress" is perfect for your pregnant
bridesmaid as it is cut in a cascade which allows all your bridesmaid to
be able to wear the same style on your Wedding day – with the dress
being high in front and low at the back on all your Bridesmaids.
This dress is made with a durable, stretchy fabric over the bust with
no annoying zips allowing for ultimate comfort for a bra free fit. Your
bridesmaid will be ecstatic to know that she can choose her own style
on your wedding day and be able to wear this dress again after she
has given birth as this amazing no zip design will grow and shrink with her.
The Petite Bridesmaid
Your petite bridesmaid will prefer a dress that will accentuate her tiny
waist and show a bit of leg where possible. She will probably want to
shop the highest heel she can find. The Original Infinity
Dress with low back is the perfect dress for your petite bridesmaid as the straps will
allow her to shape her waist and the cascade shape will allow her to
show off her tanned legs.Your bridesmaid can choose any heel she prefers and the length of the
dress will remain perfect on your wedding day. The bonus part? She
can wear the dress again after the wedding day!
The Distant Bridesmaid
If you have a bridesmaid coming to join your Wedding party from
another side of the world, she will want to order her dress either last
minute or only arrive two days before the wedding for alterations.
NO bride needs that kind of stress two days before her wedding day.
Conclusion: The Original Infinity Dress is the perfect dress for your distant
bridesmaid as even if she orders a size too big or two small, the no
zip stretch fabric will allow her to style her dress for the perfect fit
and look!The length will not prove to be an issue as the dress is meant to be
high in front and low at the back (cascade cut) which allows her to
show up to your wedding day and have a perfect fitting dress waiting for her.
Contact us today to order
for your bridesmaid
Email: sales@infinitydress-southafrica.com
National Office: 0615107109
Infinity Dress SA - @infinitydresssouthafrica